8
Minute Read
[For Mark]
From a child, I would, on rare occasions, look at a thing and sense from it a timeless, ineffable outreach.
"Look at me. Notice me. Remember me. You'll wish you had."
Whenever an object craved my attention like that—inanimate, not, foreign, familiar—it was as though, for that occasion only, something glowed in my bone, flashed in my wit, or vibrated in my gut without any visual adornment. Early on in my life, I initially paid no mind to these mysterious encounters, even dismissing out of hand the strangely talkative whatever-it-was as some random, why-are-my-eyes-resting-a-beat-too-long-here bugaboo. But something would invariably come of it, leaving me wishing I hadn't been so cavalier. Guilt-mongered by my better angels—once I imagined a murmur over my shoulder of something like, "Told you"—I vowed to pay closer attention if it ever happened again. But after each rebuke, either audible or logical, the repeating pattern—Look, Listen, Forget, Regret—would seep from my mind in a matter of minutes.
Living in Nîmes, France, one fall and winter nearly fifty years ago, I roomed upstairs from a French brasserie on the Rue de Corneille, a Roman stone's throw from La Maison Carrée (the square house). With no lift to carry my Peugeot bicycle and me to my third-floor apartment, I parked the bike every night in the rez-de-chaussée and detached its portable pump before trudging up two tall flights of circular limestone. On my meager stipend, the bike was hardly replaceable, but I had learned early on and the hard way that the pump was more likely to go walkabout no matter where I locked the bike. I kept its replacement upstairs for the duration.
One morning as I was exiting my apartment, the replacement pump caught my eye.
"Bicycle pump," I heard it say, or felt it cry out, or noticed my eye lingering on its white, cylindrical, attractive nuisance a moment too long.
But as I had learned to do over the years to do, I paid the inanimate outreach no heed and continued down the windy stair to the foyer. After clipping on my pant clamps, fetching my bike, and lifting it over the threshold to the stone walkway, I felt the clunk of tire on stone that riders immediately know as the signature sensation of a flat. Retracing my steps to grab my repair kit, the bike pump and I have a brief moment alone.
"You know I'm right about these things, but you never bother to learn my language. You should really consider changing your attitude."
***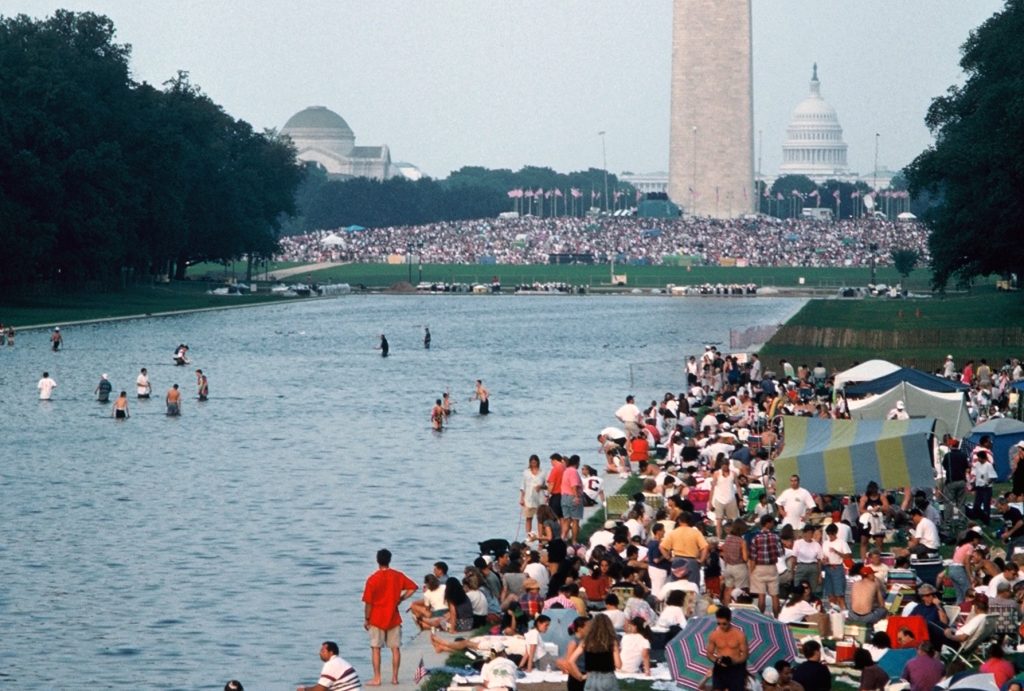 Prior to 9/11, Kari and I fell into the habit each American Independence Day of taking our kids to our usual haunt near the outdoor Vietnam Memorial in Washington, DC, to watch from there the world-famous fireworks show above the Washington Monument. After the attack on the Pentagon and Twin Towers, we fell into a second habit of trekking somewhere closer to home, like Poolesville or Germantown, Maryland, to celebrate the Fourth of July.
Seated on the Metro as I write this sentence, for the first time in nearly a quarter century, the Knell family, at the request of its oldest son Timothy—who last night brought his wife and girls to Maryland from California—is once again schlepping into the city for tonight's festivities. If memory serves, there will be music, picnics, personal fireworks smuggled in from neighboring Virginia, and a mosh pit of generally happy and occasionally unruly people who have come to the capital area from virtually every corner of the world.
As I think on our earlier pilgrimages—driving past hundreds of boats at anchor on the Potomac, scores of pedestrians crowding bridges and overpasses, dozens of office workers in (or atop) their places of work, all awaiting the 16-minute public display of explosion set off at the evening's climax—I bump up again to a string of words I once heard in mind's ear that when taken together, bookend two life-altering events: for myself and if I dare to go there, a little boy named Mark.
"Bicycle."
"Headlamp!"
"If on a summer's eve a writer…"
***
It is 1995. Kari, the kids, and I are walking the mile or two from wherever we parked that afternoon to our favorite pyrotechnics viewing spot, a copse of woods and grass near the reflecting pool that ran from the Lincoln to the Washingon, ground zero so to speak for the fireworks show to follow several hours later. We are joined in our parade by three families from our Maryland neighborhood with whom we often celebrated the season. At this particular moment, I am walking between Bill Egan and Robert Parsons, dear friends of ours since moving from Boston seven years earlier; their two boys, Mark and Daniel, practically arm in arm a dozen yards ahead. They can't have been older than four and five, but they know the way or are keeping an eye on their older sisters further on. We dads are likely talking grills—Bill's thing; birds—Robert's thing; or maybe Wimbledon—we all liked tennis.
As we quicken our pace to keep the boys in sight—"Slow down!"—I begin to wonder, not for the first time, what my "thing" actually was. I enjoyed tennis, sure; the previous summer, I stood for hours in "the queue" to watch Pete Sampras at Wimbledon. But by that stage of my life's energy and enthusiasm for sport, tennis was no longer a regular for me. A couple of times a year, maybe; including at the beach with Bill and Robert every spring break, but, sadly, not anymore.
"You used to write," I hear myself answer. "What happened to that ambition?" And not for the last time do I hear the would-be-writer in me cut off its lapsed impostor with, "Don't even pretend to go there."

But as it's the Fourth of July, and I have no other preoccupation keeping me from my thoughts and alternatively applied dreams—and since I have no talent for grilling nor taste for birding—I tune out Bill and Robert for a moment to follow what at first I mistake for my self.
"If on a summer's eve a writer were walking behind two young boys, who look as though they haven't a care in the world, what might he scribble of his physical impressions of them as they pass through this very moment?"
Humoring what I think is creativity playing tricks, I begin to make a mental inventory of the clothes on the backs of Mark and Daniel when an urgent tone rushes into my musings as if emanating from the shirts and shorts themselves.
"See me. Remember me. You must pay attention to what you are looking at."
***
As the days grew longer in Nîmes, I sometimes found myself riding my bike after dark. Rather than purchase a battery-powered headlamp only to buy a new set of batteries every week, I paid a little more upfront for the tire-powered version. The mechanics of the generator were that when its tiny wheel pressed against the bike tire traveling fast enough, the tire's forward motion turned the generator wheel to send an electric current to the headlamp. It was an ingenious and economical contraption whose only flaw was the drag its highly frictional contact inflicted on the bike tire. For that reason, I only pressed the generator wheel against the tire when I absolutely couldn't see in the dark. After the bulb stopped working altogether, I permanently disengaged the generator, falsely promising myself I would stick to roads with streetlights when riding at night.
The day my bike pump "told" me to Look, Listen, Remember, and Not Regret, I once again pledged to break my slothful pattern. The problem with making and breaking that commitment was that while it was one thing to notice something out of place in my particular worldview, it was quite another to know how to respond to what, by my early twenties, I had come to think of as a prescient prompting. So when, at the top of a steep and windy hill the same night my bicycle pump put its invisible foot down, I heard the voice for a second time that day, but this time a little louder.
"Headlamp!"
While not exactly ignoring it this time, I chose not to go down without a fight.
"Headlamp? What about it? It's broken; can't you see that? Hasn't worked in weeks. If you're asking me to engage the generator, it will only slow me down."
"Headlamp! And don't forget your little blunder with the pump."
And that was that. After sheepishly dismounting my bike and pressing the headlamp generator wheel-to-tire—
"I'lI mostly be coasting downhill," I rationalize. "I'll hardly notice the drag."
—l begin my decent. As the road starts to wind, I can feel my gravity checked by some outside force. But I haven't a second to complain because no sooner have I picked up speed does my headlamp flicker to life. And as it does, a too-fast-approaching two-ton camion swerves around a bend in its ascent, crossing momentarily into my lane. Seeing my tiny light—I instantly pray he does—the careening truck's driver cranks his wheel a hard right to narrowly miss right by me.
"That's what I'm talking about," harrumphs my newly working headlamp.
***
When you plop down your picnic anywhere within the acres and acres of lawn and woods that flank the reflecting pool on the Washington mall, you are instantly swallowed up by tens of thousands of your closest friends camping there for the same reason: their picnics, blankets, and fireworks already laid down. Like a crowded Memorial Day beach, our entourage gingerly threads its way to a clearing large enough for four families and over a dozen kids to lay out our kit. Territory marked, a base camp established, and holiday possessions roughly arranged, Emmy begins to pop off dinner lids when Bill's wife Calleen lets loose a mother bear gasp.
"Bill! Where's Mark?"
There is a moment in the life of every parent when the future of their child flashes completely before their eyes as if they, themselves, are facing imminent death. All eight of us know this moment implicitly and immediately mobilize. Our informal team leaders, Calleen and Robert, rapidly tick off points of the compass to everyone but me as I've mysteriously gone walkabout. I'm already heading straight for the Washington Monument.
"You know what he's wearing. Walk in the direction you are facing right now."
As the other parents fan out across the mall, and for a solid three minutes, I battle doubt and disorientation to constrain my field of view to the ocean blue of a size-four 'T' and a little pair of khaki-colored shorts. As I accelerate my beeline, hundreds of faceless strangers I am determined to keep in the periphery of my tunnel vision come and go like so many retinal flashes. Rushing past what seem like head-high branches in a thick wood, I can almost feel the scratch of each unremarked face as it brushes against my own, afraid even to turn me to the left hand, turn me to the right, for fear I might break the spell I have been under since base camp.
"Am I not hunting for a face? How am I so gripped in a straight-line dead run?"
As the panic seeps into my cheeks, I walk even faster. I eventually make out the end of the line I have drawn and what could pass for a cattle pen fence. On the other side of it is the reflecting pool that stretches between Lincoln and Washington. Fruitless or not, the fence marks the dead end of my blindered race against time.
And just like that, there they are, ocean blue and khaki, the colors I have been straining to see for a full four minutes, leaning against the fence in a posture that spells, "If I could get just get a toe hold on this fence I would surely break it down." Squeezing closer—people are now moshing shoulder to shoulder—the colors resolve into the back of Mark Egan's shirt and pants, their wearer wishing he could squeeze out of them if that's what it takes to make it into the water.
"Come on, Kiddo," I say. "Time for dinner."
***
Six weeks ago, Mark asked me to attend his wedding. Seated with the groom's family, I tear up to consider that Kari and I are the only members of his party not connected to him by blood. He won't remember the day I was bid to gather him to dinner. (When Bill sends me a current email address, he'll at least have this record of it.) As we sit in that holy place, every detail of my tunnel vision sprint to the wall returns to me in living color. In a flash of irony, across not a cattle fence but a holy altar, Mark is again showing me his back as he gazes longingly into the water brimming from the eyes of his beloved. I need no imaginary pen this time, no notebook, no inner voice to tell me the colors he is wearing.
***